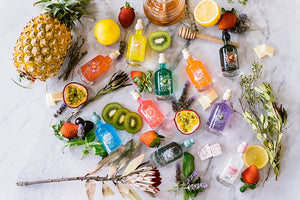 Not yet sure what flavour will be your favorite? Try our Baby Gin Collection. This collection consists of 10 x 50ml bottles of our delicious craft gins. 
Amethyst, Aquastone, Garné, Jade, Moonstone, Morganite, Diamond, Pearl, Sunstone, Topaz.
This is the perfect gift for any Gin Lover or just to spoil yourself. The precious collection of the fine baby gemstone gins is inspired by the Wizarding World. Suitable for Muggles and Wizards ;)
These beautiful baby potion gins are perfect for any occasion.
For larger quantities for bachelorettes parties, wedding favors, birthdays etc please contact us directly to qualify for wholesale prices.
PS. due to the current Consol situation in South Africa, bottle variations might occur  
---
Flavour: Various
Bottle: 10 x 50ml
Alcohol: 43%